Due to the coronavirus cancellation last year of the Indiana State Fair, waiting two long years in order to judge this year was akin to a child counting down the days until Christmas.
Judging a total of 30 categories this year—mostly china and pottery—I was truly excited for the return of the Ugly Lamp Contest. This year's "crop" (I do not use that term loosely) is considerably larger than that of a few years ago.
A green wicker frog with surprisingly well-chosen red, white and blue marble eyes gazes at us while its mouth gapes, ready to—I assume—croak. I could say the same about myself (pun intended), due to the complementary red hat shade that makes this color combination oh so dissonant.
It seems a canine theme is apparent this year with three entries, only one of which merits a ribbon. Which one do you think takes the prize?
Eyes aglow with faceted ruby eyes, a plaster German Shepherd (à la Rin Tin Tin) stands guard over a genuinely nice green frosted Art Deco waterfall-style lamp shade. Its attenuated Giacometti-like figure, however, owes more to the thin plaster and the constraints of the mold than to the intentions of its creator.
The canine motif continues with a "Touch Lamp." This popular form of 1980s light lacks a switch; you touch the base to turn it on and off. The only directions included here, however, are these: "To reduce the risk of fire, use 15 W bulb or 110 V type B 25 W (MAX) bulbs" and "If lamp is not in used (sic) for long time or in case of malfunction please unplug the cord immediately." I believe we are in imminent danger when even simple caveats, however grammatically incorrect, are spelled out. Perhaps a warning of imminent lack of taste might also be required. Six identical glass panels featuring a wolf proudly proclaim "OK Lighting." The ferocious lupine theme clashes with the delicate foliate discs, finial and base, all with an already-eroding cheap brass finish.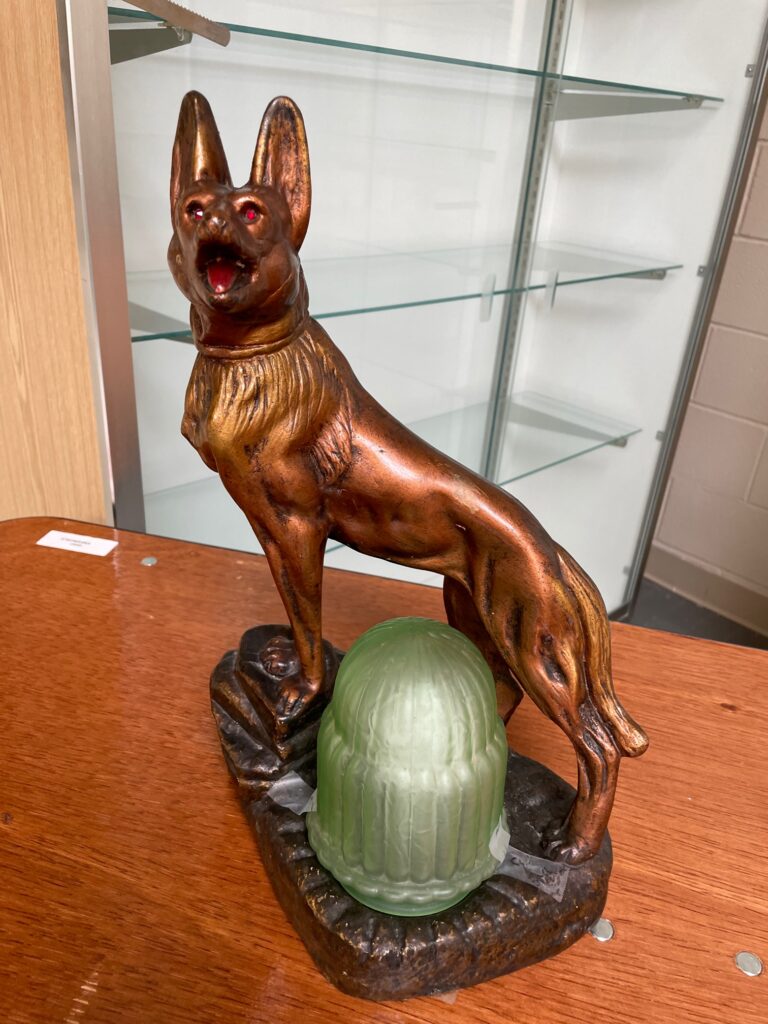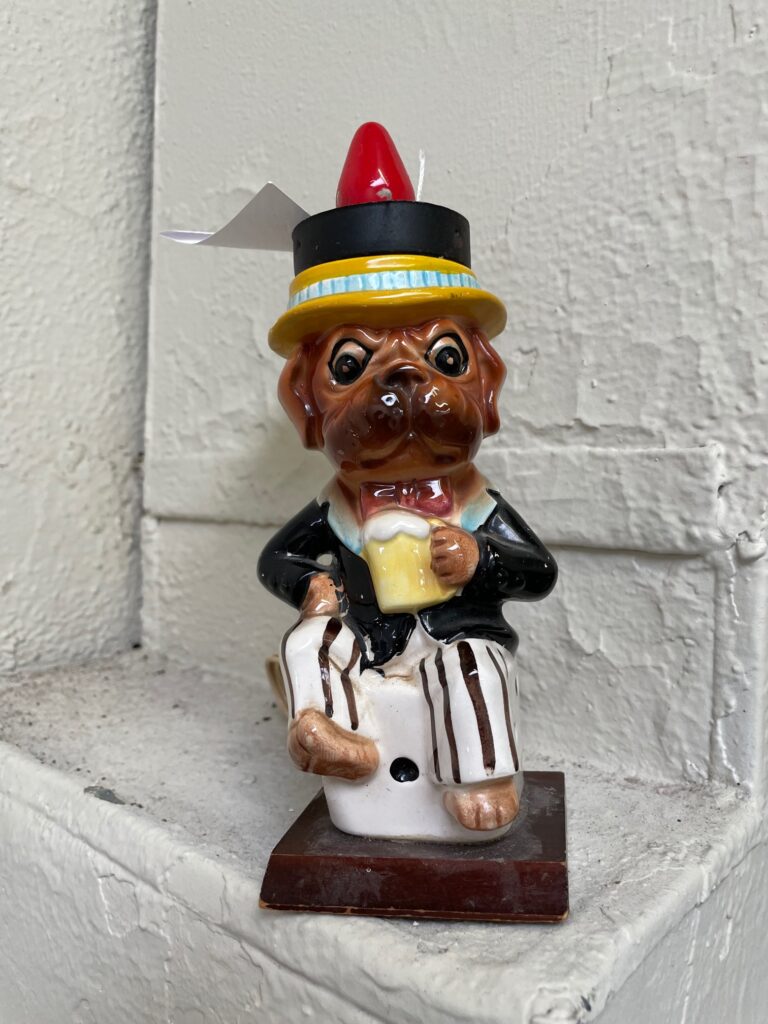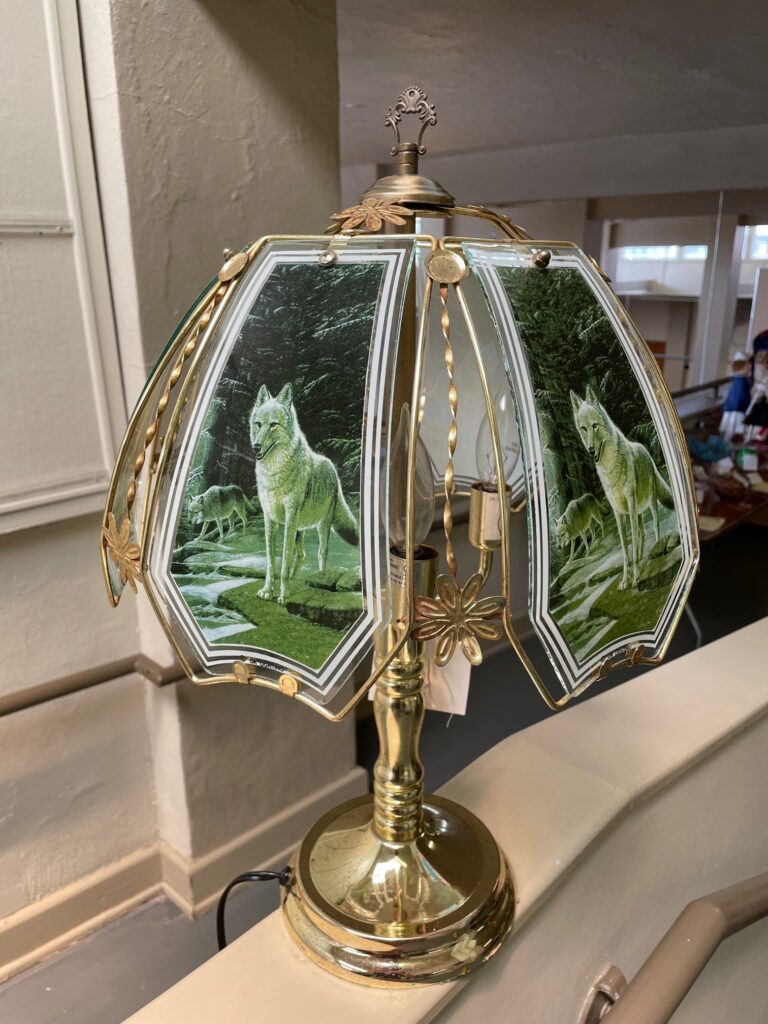 The third canine entry, perched upon an over-sized die with a straw boater surmounted by a metal cap and red light bulb, is a bulldog hoisting a beer mug in a toast. The grimace of this pooch perhaps signals his increasing displeasure at being made light of.
Moving on, a too-glossy finish highlights a driftwood lamp screwed onto a plywood base. To simulate reality, or more likely to hide the inelegant transition between the two surfaces, small pebbles have been glued around the base of the wood. Branches point in several directions, so our eyes don't know which direction to follow, capped off with a teensy-tiny fake lace plastic shade—the rules of proportion all but point directly out the window.
All told, the top ribbon winners this year are figurals. A neo-colonial plaster lass curtsies as her cockeyed eyebrows beckon. While the lamp's painted '50s-era lustre has deadened through the years, the gold trim on her bodice and the Rococo shell motifs on its base still shine brightly. The original shade with lace is a wonderful touch, but in an attempt to gild the lily the entrant has unfortunately added an anachronistic '80s fake flower. While I'm sure the intention was to make it even uglier, this example would certainly have placed higher in its original iteration.
Another plaster lamp, this time a late '60s-early '70s gamin, sports a daisy-decorated granny dress and matching bonnet. Though unadorned, the stained original shade adds even more to her character, and if you will a slightly pathetic quality. Emphasized with demure eyelashes, her heavily mascaraed eyelids exclaim "The Exorcist" to those of us who grew up in that time period. If you look closely enough, there are slits for the eyes, and while they should have been painted open, the creator's artistic license chose to make her more alluring. It remains to be seen if enough viewers are taken in by her charm. That she exemplifies what is now known as "Bohemian Chic" perhaps says something about our current culture.
In order to know what is great and what is not, one must also identify what is ugly and what is beautiful. Once again it has been my pleasure to judge not only this, but several other categories in the Antiques Division. I must give credit to the dedicated staff and volunteers who tirelessly give their time and expertise in this endeavor. To see the items described herein as well as other great exhibits, visit the Indiana Arts Building at the Great Indiana State Fair, this year celebrating the Hoosier Spirit, July 30 through August 22.
# # #